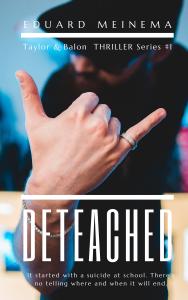 A brand new crime duo: Taylor & Balon. First book in this Thriller series is now out: 'Deteached'. Investigating the suicide of a teacher detectives Taylor and Balon are confronted with a second victim. A second teacher who apparently commits suicide under identical circumstances.

It started with a suicide. There's no telling where and when it will end.

Enjoy reading (buy your copy at: www.amazon.com/dp/B07V396B4H) or enjoy mugs, Tees and other artwork made of the cover.